I would like to partner with you to empower your patients to become active participants in their own good health. I have worked in the health care field for many years, most recently as Director of Laboratory Services at Anna Jaques Hospital in Newburyport, Mass. I am also a longtime yoga practitioner and professional level yoga teacher who specializes in gentle, therapeutic yoga and meditation practices.
Combining my conventional health care background with an extensive knowledge of therapeutic yoga, I can design customized plans for your patients to help them cope with stress-related illness and challenging treatments, and recover from surgical procedures.
All services are provided in a safe, quiet and comfortable environment. Graceful Path Yoga specializes in beginner level, gentle yoga with modifications customized for individual needs or conditions. Classes can be held in my studio or at a patient's home.
Abstracts and Articles
Yoga for Chronic Low Back Pain
Yoga as Support for Supportive Care for Healing from Cancer
Yoga and Early Breast Cancer, Anxiolytic results
Scientific Basis of Yoga Therapy
Patient Testimonial
"My experience with Carol's yoga has certainly reminded me that I am in control of my body, mind, and soul. No matter how horrific this diagnosis was/is or how terrible this year has been, and what I'm to face in the future – I have gained the mindset that I am strong and I will conquer. I wasn't able to think this let alone believe it before I met yoga therapy. I will be overwhelmed and I will have feelings of despair – who wouldn't while going through such devastating circumstances? But, I have learned and adopted the power to turn my negativity and my fears into positive thoughts and energy through the meditation that I learned.

Physically… I wouldn't be moving as well as I am, nor would I be sleeping better (chemo induced insomnia). I do my yoga before I go to bed at night and I no longer have severe restless leg syndrome or muscle cramps, or the end of the day's overactive thinking. I do some yoga in the morning and I am better physically and mentally to get though a day on the job. When I stress at work, I mindfully go back to the yoga room, hear Carol's voice reminding me "to pause, be faithful to my practice and bring my attention to breathing.
Having someone to help me hold myself accountable in my treatment plan, and who is my cheerleader is extremely important to me in moving forward."
Marianne A.
What is Therapeutic Yoga and how can it benefit your patients?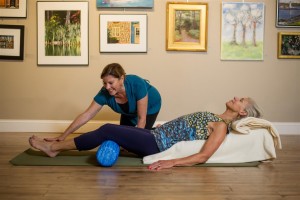 Yoga therapy, is the adaptation of yoga methodology for people seeking to resolve or manage a health condition or problem. Research shows that yoga and meditation can help cancer patients cope with their symptoms and the side effects of treatment such as anxiety, fatigue, insomnia, and pain. Strong evidence shows that yoga is effective as a therapy in relieving chronic low back pain.
In my practice, I work with individuals of all ages with a variety of conditions and varying degrees of physical fitness, carefully selecting and modifying yoga postures, breathing techniques, guided meditation and relaxation practices to meet their therapeutic needs.
I have been using different well-established techniques for measuring pain, anxiety, and depression, and the results have shown some notable improvements after only six sessions. My ultimate goal is to is to help your patients sustain what they have learned and adopt a more healthy and balanced lifestyle going forward.
About Integrative Medicine
Integrative medicine is healing-oriented medicine that takes account of the whole person; body, mind, and spirit, including all aspects of lifestyle. It emphasizes the therapeutic relationship and makes use of and coordinates all appropriate therapies, both conventional and alternative.
As Integrative medicine and practices such as mindfulness, meditation, and yoga become mainstream in many other teaching hospitals throughout the country, some insurance providers are beginning to contribute to these services. For patients whose insurance providers do not cover therapeutic yoga services, I am pleased to offer flexible payment schedules.
Customized Patient Programs
I believe that the practices of yoga and meditation can help most people cope with stress from the demands of daily living, health issues, injuries, and the aging process, and that these practices can complement, not compete with, conventional medicine. Treating people with the utmost respect, professionalism, and ethics builds trust and openness to the teachings. I believe that these teachings and practices, if maintained, will enhance people's lives, promote wellness and stress resilience. Providing a healing environment, a safe refuge, reinforces the practices. Finally, I am committed to doing no harm, through safe practices mindful of any person's limitations and honoring where they are on their path.