Group Yoga Classes
The intention of a Kripalu Yoga class is to help students stretch, strengthen, and recharge their bodies while they learn to develop compassionate self-awareness. What makes a Kripalu yoga class different from other yoga classes is an internal, meditative focus that promotes the union of the body, mind, and spirit, and results in a profound sense of wellbeing.
A complete Kripalu yoga class includes:

Centering – the practice of present moment awareness
Yogic breathing techniques
Warm-up exercises taught with attention to details of alignment and balance
Coordination of breath and movement – meditation in motion
Relaxation period at the end of practice
---
Gentle Level
A great class for beginners, and anyone interested in exploring a gentle practice to recover from stress, improve flexibility, and promote wellbeing. Students will learn a variety of foundational yoga postures that require sitting, standing and lying on a yoga mat.
Moderate Level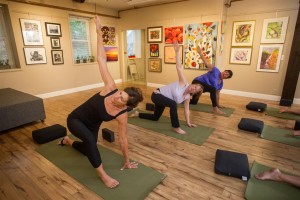 This class includes breath work, a variety of warm-up exercises, and a broader experience of classic yoga postures. Exploration of practice may include vinyasa, or the sequencing of postures in a flowing style that provides a good workout and helps students feel re-energized.
Restorative Yoga
A calming practice that emphasizes breathing exercises and soothing, supported postures, restorative yoga promotes total relaxation. The use of props such as pillows, blankets, and bolsters encourages students to relax their muscles and their minds, experience the mind-body connection, and enjoy an amazingly rejuvenating experience.
"Carol's energy is always a gift to her classes – it's relaxing, yet upbeat, and always delivered with a smile. I love the attention and care she puts into each pose of the poses as she guides us into them. My body and my mind benefit greatly by her teachings and I'm always so happy I took the time for a session with Carol!"
Nancy L.
"Yoga class give me the time and space to quiet the body and mind; allowing me to really pay attention to how my body feels and how it reacts to movement. The slow and purposeful poses help with stretching and balance and feel so healthy!"
Tricia B.
"Carol has a very calming style – her yoga is very engaging and peaceful !!"
Esther S.
"​As a Personal Trainer and Health Coach, I am well aware of the affects of accumulated stress in the body, including sleep deprivation which only worsens the harmful affects.​ ​On the evenings I am privileged to attend Carol's yoga class I always enjoy a wonderful night's rest . Additionally the class helps safely stretch out my tight running muscles and improves not only my running stride, but I seem to move all parts of my body more fluidly. I have absolute confidence in Carol's ability to cue correct forms, and know she always has an eye out for any modification she might need to offer. Carol's beauty radiates from within to warm everyone she meets and it is a joy to know her.​"
Nancy M.​